www.allenturner.com
This page is under major (re)construction. Work has been inadvertently delayed and will continue to be delayed for awhile yet. I apologize for any inconvenience.
In the meantime, if you're here for the West Columbus High School Class of 1967's page, just click on this link.
Feel free to email me by clicking here any time.
Sincerely,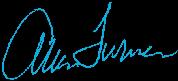 Allen Turner