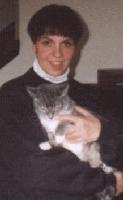 Our wedding originally was scheduled for for Oct. 4, 1997 in Rolling Meadows, Illinois, a suburb of Chicago.

We changed that, though, and got married on Aug. 9, 1997.

She's going to KILL me for posting those pictures, but I am very happy about our relationship and so proud that out of all the men in the world, she has chosen me, I had to share the news with you.)

And -- guess what? -- we met on the Internet! Yes, it does happen in real life!